The Brainstem
This page continues with our functional guide with the brainstem. A structural abnormality in the brainstem is one of the most life threatening pathologies that can be encountered, as the brainstem controls much of the involuntary nervous system that keeps the heart beating, the lungs breathing. Particular concern should exist if there is a suggestion of a brainstem herniation (meaning that the brainstem is being pressured and squished, perhaps even out of the skull) by increased intracranial pressure elsewhere inside the skull. Emergency surgery will often be undertaken to alleviate such pressure.
My goal on these pages is not only to make available things that typically might be found in a medical book, but to make them easier to read and understand. While waiting.com is based upon upon medical science, I try not to write like a doctor would write for another doctor. Nor do I try to write like a brain injury survivor would write for another survivor. The goal is to combine a technical understanding of brain injuries with the communication skills both written and verbal that I've developed in my career as a writer and as a lawyer. My calling is to teach, to inform and to advocate.
We hope that these pages are self-accrediting to you. That you will see yourselves, your loved ones in these pages and through them you will in fact get a better sense of what is ahead and what it is that you need to learn and you need to do to ensure the best recovery for you or your loved one.
Call me at 800-992-9447
---
The Brainstem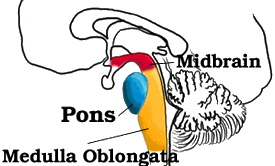 Click On Any Label To Go To A Definition or Scroll Down To View All Definitions.
Brainstem - The lower extension of the brain where it connects to the spinal cord. Neurological functions located in the brainstem include those necessary for survival (breathing, digestion, heart rate, blood pressure) and for arousal (being awake and alert).
Most of the cranial nerves come from the brainstem. The brainstem is the pathway for all fiber tracts passing up and down from peripheral nerves and spinal cord to the highest parts of the brain. Click Here To Return To Diagram
Medulla Oblongata - The medulla oblongata functions primarily as a relay station for the crossing of motor tracts between the spinal cord and the brain. It also contains the respiratory, vasomotor and cardiac centers, as well as many mechanisms for controlling reflex activities such as coughing, gagging, swallowing and vomiting. Click Here To Return To Diagram
Midbrain - The midbrain serves as the nerve pathway of the cerebral hemispheres and contains auditory and visual reflex centers. Click Here To Return To Diagram
Pons - The pons is a bridge-like structure which links different parts of the brain and serves as a relay station from the medulla to the higher cortical structures of the brain. It contains the respiratory center. Click Here To Return To Diagram
Attorney Gordon S. Johnson, Jr.

E-mail to: waiting.com
For legal questions call toll free: 1-800-992-9447

We are not medical professionals, however we encourage your inquiries regarding both legal issues and information on further resources. Phone and email inquiries will be received by the staff of the Brain Injury Law Office, including Attorney Gordon S. Johnson, Jr.
copyright ©2002 - 2013 Attorney Gordon S. Johnson, Jr., All rights reserved.

For more on Attorney Gordon Johnson
http://gordonjohnson.com